FIBER INTERNET IS COMING TO YOUR NEIGHBORHOOD!
Visionary is constantly expanding our fiber network across the Rocky Mountain Region. Check your address now!
PROPERTY AND EASEMENT PERMISSIONS
Visionary Broadband and our contractors will be utilizing city-owned right of ways, and front and rear easements on your property during fiber construction.
An easement is a permanent right giving a person or party permission to use the land or property of another for a specific purpose (generally, utilities). Visionary obtains permission to use these areas to build and maintain our/your fiber-optic network. Easements can include the area between the sidewalk and the street—and even 6-foot wide portions of the landowner's property.
---
Visionary understands the disruption our fiber installation can cause. This is temporary and we will move as quickly and safely as we can.
We will not cause any property disturbances outside of right-of-way or easement thresholds.
Visionary makes every effort to leave your property as we found it once construction is complete.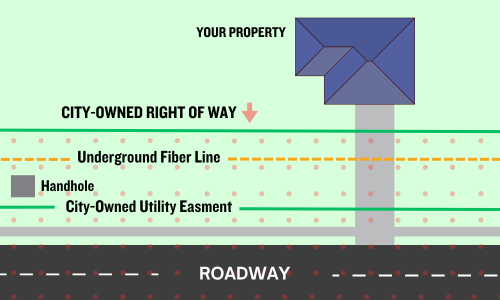 BRINGING FIBER TO THE WEST!
Visionary is traversing the tough terrain of Wyoming, Montana, and Colorado to deliver the fastest and most reliable fiber internet to the great communities of the West!
FIBER CONSTRUCTION GUIDE
As we expand our fiber network, you may notice our crews and equipment in your area. Here's what to expect as we bring fast and reliable fiber internet to your door.
QUESTIONS OR CONCERNS REGARDING FIBER CONSTRUCTION?