---
GET INTERNET AT THE SPEED OF LIGHT
REALLY... IT'S THAT FAST!
---
Visionary is constantly expanding our fiber network across the Rocky Mountain Region. Check your address now!
---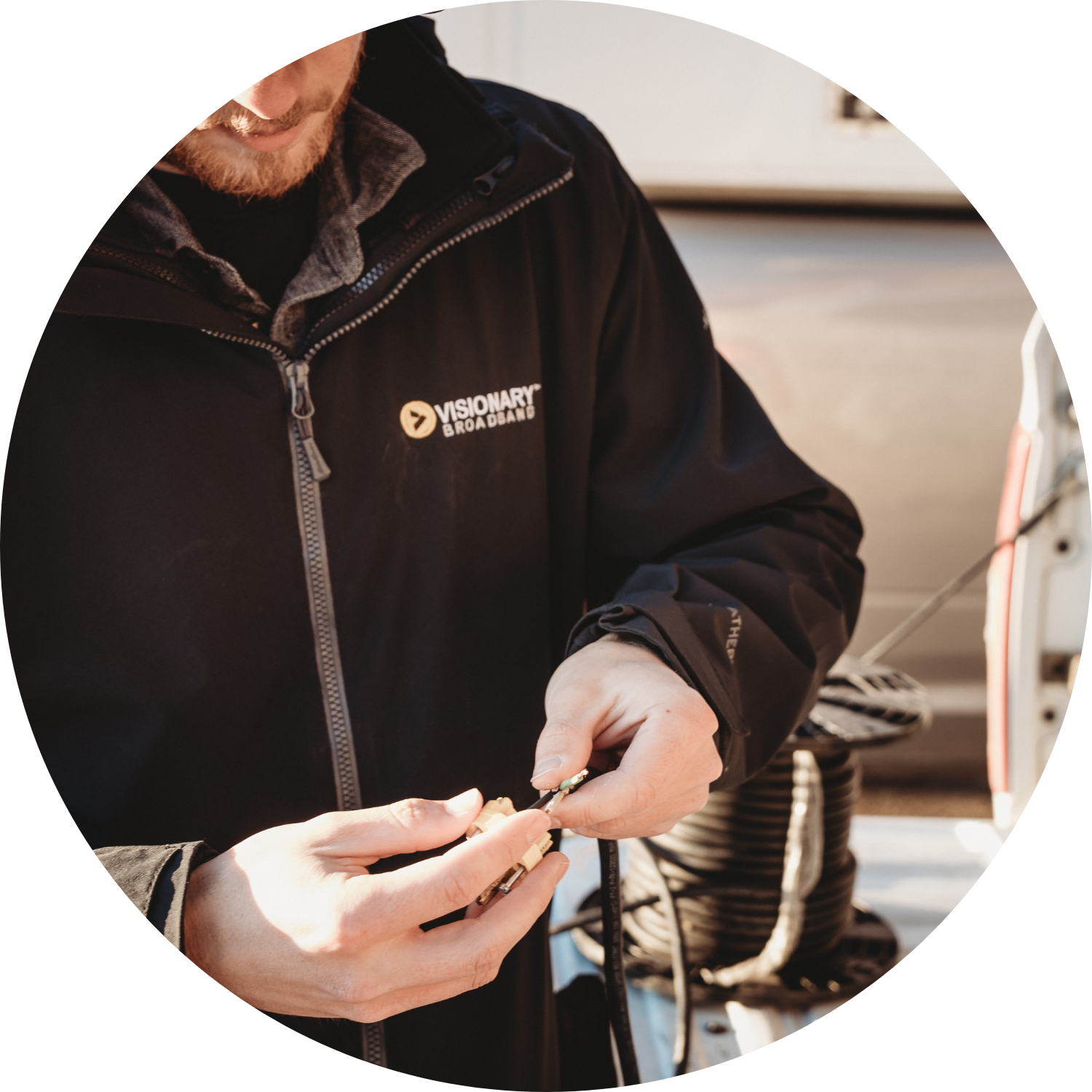 ---
As we expand our fiber network, you may notice construction in your area. Check out this quick video for what to expect as we deliver super speedy fiber internet to your door.
VISIONARY BROADBAND PARTNERS WITH TILSON TO EXPAND
FIBER INTERNET IN WYOMING COMMUNITIES

CASPER, Wyoming (08/11/2022). Tilson, a national network development and information infrastructure professional services firm, has partnered with Visionary Broadband, one of the largest and most geographically diverse internet service providers ("ISP's") in the Rocky Mountain region, to provide fiber-to-the-school ("FTTS") and fiber-to-the-premise ("FTTP") broadband into residential neighborhoods in Casper and Cheyenne, Wyoming. The partnership further strengthens Tilson as a market leader in network deployment as it deploys thousands of miles of fiber and connects hundreds of thousands of premises each year.
Vice President of Public Relations Stacie Mcdonald is excited about the ongoing project, saying,
"Communities deserve fast and reliable internet that they can trust. We feel so fortunate to have a respected and seasoned company like Tilson as our partner in deploying future-proof fiber in Wyoming markets. Visionary has been a good neighbor for 29 years, and Tilson shares our same community-first values."
"We are thrilled to team up with Visionary to deliver dependable, high-speed internet that will significantly increase the quality of life for Wyoming families, students, and schools," said Joshua Broder, Tilson's CEO. "Tilson's commitment to bring fast and reliable internet to unserved and underserved communities is one step closer to closing the digital divide in rural America. We look forward to continuing to partner with Visionary as their design build partner and the state of Wyoming to deliver long-lasting impact for its residents."
Construction started in 2022 in Cheyenne and Casper, Wyoming with Lebhart Elementary School in Cheyenne being the first to have fiber placed. Today, many state and local representatives will participate in a groundbreaking ceremony held at Summit Elementary School symbolizing the start of the fiber build project in Casper, Wyoming.
The broadband expansion projects will provide high-speed internet access to thousands of addresses and will bring dozens of new job opportunities to the areas. Job applications are now open and can be found on Visionary and Tilson's careers pages. Both companies provide full- and part-time employees with a comprehensive benefits package including health, vision, and dental insurance, and more.


About Visionary Broadband:

Founded in December of 1994, Visionary is a pioneering Internet Service Provider based in Wyoming. The company has grown to become one of the largest and most geographically diverse ISP in the Rocky Mountain region, providing customers with broadband Internet over fiber and wireless connections. Visionary is focused on providing quality Internet service for underserved and rural markets. Visionary is a privately owned company, with its leadership residing and accessing connectivity within the company's service area, keeping it in touch with the customer experience.


About Tilson:

Tilson is on a mission to build America's information infrastructure. Recognized twelve consecutive years on the Inc. 5000, Tilson provides network deployment and information system professional services to telecom, construction, utility and government clients. As a leading network design, build, and operating firm, Tilson builds high-performing technology project teams who take on the largest and most impactful information infrastructure projects in the country. To learn more about Tilson, please visit https://tilsontech.com or follow the Company on LinkedIn, Facebook, Twitter, or Instagram.


For more information: www.tilsontech.com

Contact: Kat Devillier, Director, Brand Marketing media@tilsontech.com